Seminole Productions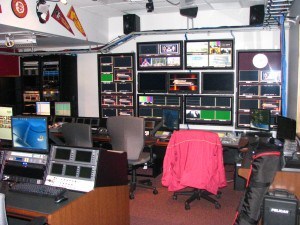 Established in 1987, Seminole Productions handles virtually every video production need for Florida State Athletics. Based in University Center D, it produces the Jimbo Fisher TV show, the Leonard Hamilton show, and the Mike Martin show, as well as Seminole Sports Magazine and various shows for Sun Sports/Fox Sports. Seminole Productions also produces all of the production elements for Seminole Vision, the in-game entertainment productions for all of FSU football, basketball, and baseball home contests and provides visual communications support for Government and other agencies throughout the state of Florida.
Recently, Seminole Productions has partnered with ESPN to provide the Worldwide Leader is Sports- LIVE FSU content throughout the year. Students become the live production crew on over thirty-five ESPN3 Live Events per year, thus gaining valuable experience in all areas of live broadcasting. Students work alongside Seminole Productions Professionals and learn camera operation, directing, technical directing, graphics, slow motion and much more on SP's state of the art equipment. Contact Mark Rodin for more information.
WVFS/V89
WVFS Tallahassee, 89.7 FM, based on the top floor of the Diffenbaugh Building, is "The Voice of Florida State." WVFS is on air 24 hours a day, 7 days a week, 365 days a year, and maintains a local broadcast radius of about 20 miles and streaming audio worldwide on the web. WVFS is staffed by approximately 150-200 hard-working volunteers from both the campus and community, all of whom work with the primary goal of providing a diverse source of new and different music, news, sports, and entertainment. V89 Cattle Calls are held the first week of class each semester to recruit for all positions—no experience is necessary. Students from all over campus may serve as volunteers or earn workshop or practicum credit.
Help Desk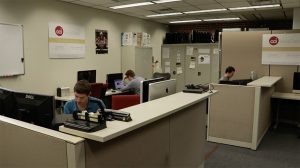 Located in Suite 106E of the Shores Building, the CCI Help Desk provides technical support to the CCI computing community (students, faculty, and staff) while offering first-hand, learning experiences to the students who comprise the CCI Help Desk team. Telephone and walk-in support is open during business hours, but you may submit a ticket at any given time.
The Help Desk area itself is equipped with 10 computers for students to use during their business hours. These workstations are configured with Windows 7 and the latest software to aid in the learning of students. Help Desk technicians are available to assist students with any technical problems.