School of Communication
The School of Communication supports specialized faculties to support a variety of professional development, research, educational and enrichment needs. It consists of the University Center C, University Center D, and the Diffenbaugh Building.
School of Information
The School of Information resides primarily in the Louis Shores Building, with classes taught in HCB and the newly-renovated William Johnston Building. Located in Shores is the Goldstein Library, which provides students and faculty with technology, library, and school media resources, along with study and meeting spaces. The College's Help Desk is located in Shores as well and provides students and faculty with IT assistance and access to high-performance workstations and software.
School of Communication Science & Disorders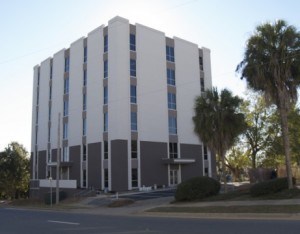 The Warren Building is the home of the School of Communication Science & Disorders and The L.L. Schendel Speech and Hearing Clinic. Located inside is the School's hearing clinic, speech and language clinic, and graduate student learning and clinic preparation classrooms. There are also faculty offices and numerous research labs on the upper floors. The Warren Building also houses the FSU Veterans Specialty Clinic to treat speech and hearing disorders that often accompany traumatic head injuries in combat. In addition, the school hopes to open a preschool program for children with speech and language impairments as well.
Office Of the Dean & Undergraduate Advising
The Office of the Dean is located on the fourth floor of University Center C at Doak Campbell Stadium in room C4115. The Advising Center for all undergraduate CCI students is located here and is open from 8am to 5pm and operates on an appointment only basis, with the exception of the Drop/Add period when walk-ins are accepted during specified times. For general undergraduate advising inquiries, please email Advising@cci.fsu.edu.
Research Centers & Institutes
The College of Communication & Information has a wide array of research centers and institutes.