Get recognition from President Thrasher at your graduation and build your resume.
The FSU Garnet and Gold Scholar Society offers you the opportunity to be recognized for your outstanding academic success and for your exceptional experiences beyond the classroom.
Your activities may already qualify you to receive this honor. Are you involved in research with a faculty member or enrolled in a leadership class?  Maybe you just returned from a study abroad experience or you engaged in a service project that helped a non-profit agency.  Perhaps you plan to do an internship in an IT firm or an Ad/PR agency.
Become a Garnet & Gold Scholar Today
Bottom line. It is never too early to begin building your future. To be recognized in today's world, one needs to demonstrate a track record of success. Your membership in the Garnet and Gold Scholar Society proves that you've exceled in areas beyond the classroom, like leadership, internship, service, international engagement, and research.
Featured Scholar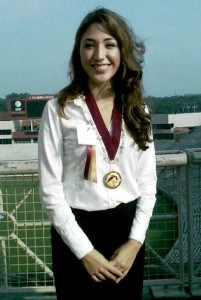 CCI alumna Courtney Duran capped her Summer 2011 graduation with a new title, The College of Communication & Information's first Garnet and Gold Scholar.
According to Courtney, "the Garnet and Gold Scholar Society recognizes well rounded students and gives them the opportunity to turn their experiences into a compiled reflection prior to graduation. It was great to look back and realize how much I had accomplished outside of the classroom during my time at FSU. It was a great way to encourage students to collaborate with their classmates and gain valuable real-life experience while doing something they love."
See more of our scholars.
Associate Faculty & Staff
Engagement areas/Faculty
John Marks, Service
Ebe Randeree, Internship & Leadership
Mark Zeigler, International
CCI College Committee
steve.mcdowell@cci.fsu.edu, Advising
Betsy Crawford, Leadership Council